So, for the first time I am sharing a crafty tutorial inspired by
this awesome lady
. My letters are a bit different as my choice in letters wasn't the same but I still love the way they turned out and know that if you decide to try this, you too,will sing for joy!
Now, I must say...this was a messy job but surprisingly satisfying. I felt like a kid again with glue and moss all over the place during the process. It was worth it...thanks to Jennifer over at
Dear Lillie
for the wonderful inspiration she continues to give to all of us over here in "Blog Land"!
Now, shall we move on to the good stuff? Here we go!
Here's what you'll need:
Moss Sheet
Hot glue gun
Glue Sticks
Wooden or Paper Mache Letters (Style Your Choice)
Wooden Dowels (optional)
So, here's all the supplies I started off with. My letters were wooden but very narrow which means they would not stand up on their own, hence, the wooden dowels. Of course, if you choose thicker letters than I did, you won't need the dowels.
I chose to lay the letter on top of the moss for sizing purposes and cut the moss according to those "measurements".
Next, take your hot glue gun and apply a layer of glue onto the letter's front side (pic not shown) and lay letter flat onto the moss. After glueing, cut the moss to fit the shape and size of your letter.
You may find that some of your measurements, eh hmmmm, didn't exactly measure up. (it's okay...you can laugh). The moss is VERY forgiving and flexible so just wrap it around the space that needs to be filled, slap some hot glue on and you're back in business!
And this is your final product! Of course, you would follow the same steps with all of your other letters.
And voila! What do you think?
I found this nest
here
. One of my favorite local boutiques! The bird I purchased a looooong time ago and just had in my "staging stash".
I would LOVE to see what you guys do with moss! Hey, maybe I'll have a "Decorating with Moss Party". Does that sound like fun?
More moss inspiration...
Pottery Barn Moss Letters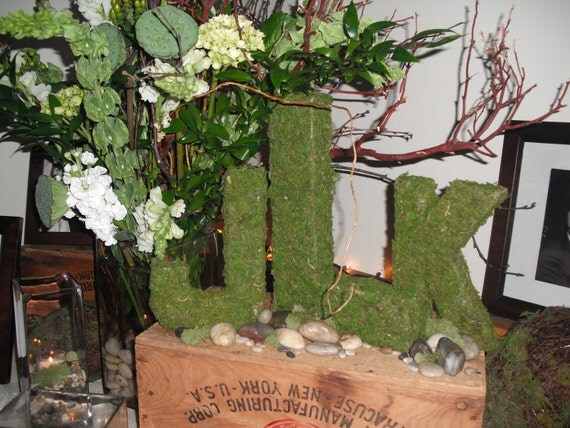 Courtesy Pickle Paperie on Etsy


Courtesy sweepmeup.tumblr.com
Until next time,
Linking up with...